THE Iraqi port city of Basra, already prey to a nasty turf war between rival militia factions, has now been gripped by a scary rumour – giant badgers are stalking the streets by night, eating humans.

The animals were allegedly released into the area by British forces.
you have to admit - it does look pretty vicious...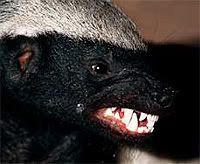 When I was in South Africa, Mum and Dave kept telling me that 'Honey Badgers' were the most vicious animal there was -
lions
will take a detour to avoid them! After my initial WOW I thought 'hang on...' and decided they must be taking advantage of my notorious gullibility, and making it up. I was CONVINCED it was a wind up. Mum kept telling me to look out for them, and I didn't bother, so sure was I that I was being wound up, and would be laughed at later.
Well, Honey Badgers do exist, and apparently, they are the new weapons of mass destruction...
The fact that something this small and this vicious with such s CUTE name makes me happy.!
( text of article for posterity )